getting grounded on the new moon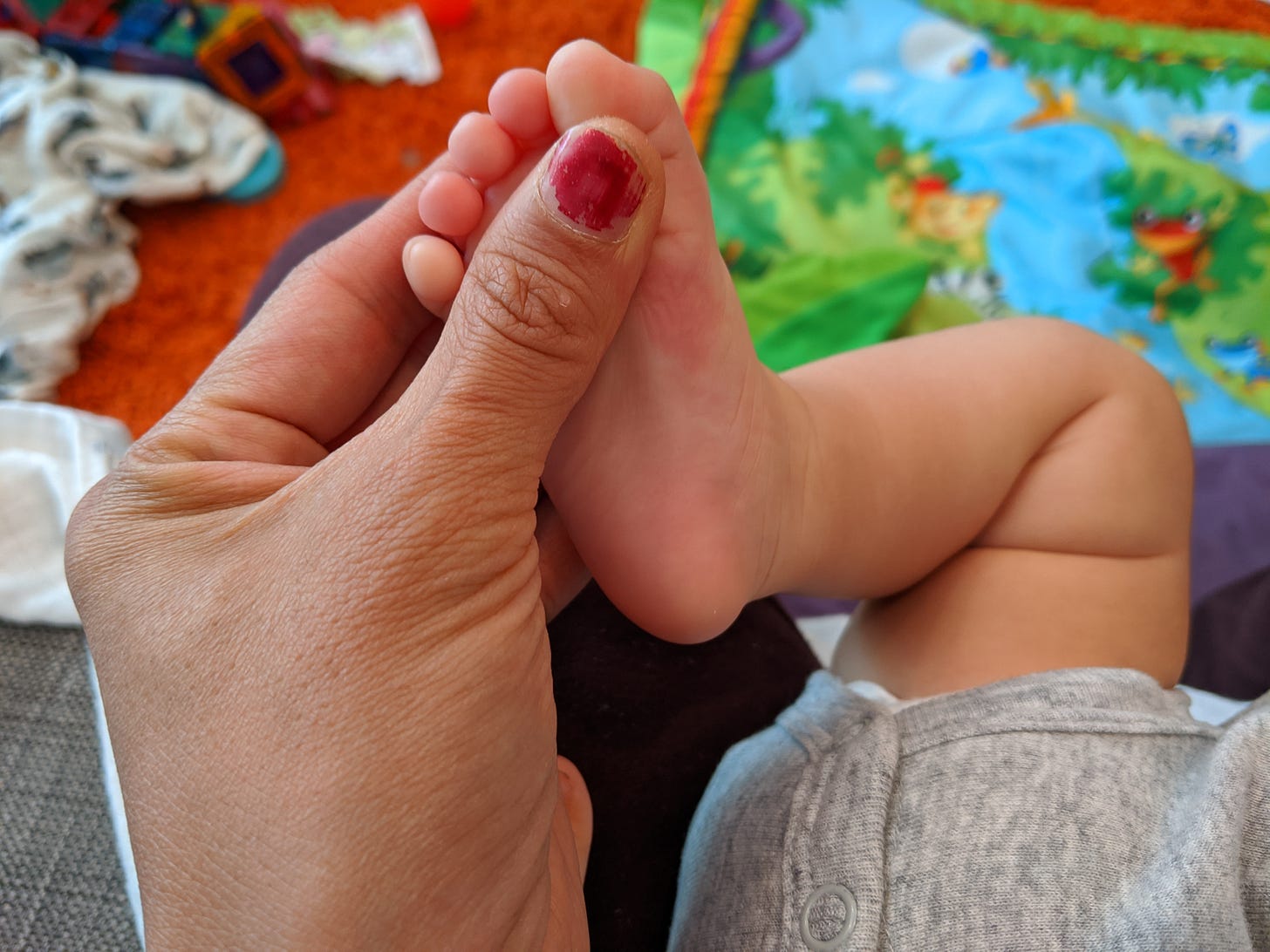 The new moon is here! Let's get grounded for what's left of 2020. On my end, toys are everywhere, my nail polish is chipped, and I need a shower, but I'm doing what matters most: getting grounded with my little 2-month-old son. There's nothing like the softness of baby feet that have never walked.
"Don't judge each day by the harvest you reap, but by the seeds that you plant."
-Robert Louis Stevenson
It's been a little over 2 years since I brought this Yoga Mama newsletter from the dark depths of my mind out into the light of day. My audience has been very small, but also very dear to me. I thank you all so much for joining me on this yoga path that we are constantly recreating to fit our busy, chaotic lives as modern yoga mamas.
I'd like to make some changes to better suit my reader's needs. As a mom of two young children, I tend to focus on issues particular to the early phase of motherhood. I also realize that what works for me might not be ideal for another mother. Because of this, I always welcome your feedback, ideas, and requests. I'd like this to be a sort of community, an online sangha of sorts.
That said, I'm not done with Yoga Mama, but this newsletter will go into hibernation for several months as I dive into a project that has been inspired by my writing this newsletter. For the rest of 2020, I will be working on a Yoga Mama Manual, an inspirational booklet to keep you practicing on and off the mat, bring some fun and creativity to your yoga, and help you craft a more meaningful yoga sadhana that feels less like work and more like a refuge for you in your busy momlife.
Until then, I might post here from time to time but my focus will be on writing the Manual. In the meantime, I'd so appreciate any comments on past posts here to guide my writing to fit modern yoga mamas. I will also give some sneak peeks into my writing process on my Instagram account, @urbanyogamama
As moms, we understand the process of cyclical efforts and the power of creation on a very visceral level. It was a tough decision for me to put this newsletter on hold so that I could focus my writing elsewhere, but this type of shifting energy and letting certain aspects of our life rest for a while is one of the greatest lessons we get from our experiences with menstruation, pregnancy, and postpartum life. Like mother nature, we yoga mamas know that the best creative energy comes after a resting period.
So, as the new moon beckons me to set my intentions for this lunar cycle, I turn my attention towards this new writing project. I've learned that the process of writing is only partly sitting down to write the actual words. The rest comes from getting off my butt to live life and then reflect on it. Sometimes that looks like a moment to sit and watch people passing by, other times it might be an hour spent sitting with a friend over coffee. Of course, as yogis, we might also count yoga practice as a way to get the creative juices flowing and to bring clarity to our efforts. So, to get grounded in bringing forth my most authentic voice as a yoga mama, I plan to bring these little bite-sized practices into my life EVERY DAY:
At least 9 slow, deep breaths a day

1-3 yoga asanas done whenever I can snatch a moment

A prayer for divine inspiration
It looks like a ridiculously simple list, but I've purposely made it very attainable, considering I have a 4-year-old daughter that will be doing preschool online at home and a new baby born a couple months ago. One of the keys to committing to practice yoga is making it doable. Another great key is to make it fun (more to come on this in the Yoga Mama Manual and I'll share my ideas for this on my Instagram as I write and edit the Manual)!
I do realize that this platform I publish on (Substack) operates on paid subscriptions as well as free signups. If anyone else does happen to sign up for a paid subscription, you can consider it as a form of support for the writing of the Manual. Think of it as a great, socially-distanced way of taking me out to coffee once a month until I get the newsletter up and running again:)
Until then, enjoy the random posts I make now and then, and follow my writing process on Instagram @urbanyogamama
Happy New Moon! I hope you're as excited about the seeds your planting right now as I am about mine.